Do You Feel Disconnected from Life? An Interview with Jodi Chapman of Soul Speak
There are days, or weeks, or even years when we feel totally lost and disconnected from life.
Maybe you are feeling that way now.
Sometimes painful events happen to us that separate us of from our happiness, from being fully alive and engaged in life. Other times, it's inexplicable. We just feel unhinged, flat-lined, or totally depressed for reasons we don't understand. Despair descends on us like a black cloud.
When you're in this place, it seems nearly impossible to climb out. You run out of ideas and energy. You feel hopeless. You want things to change, you want to feel better. But you have no idea how to make that happen or where to begin.
My friend Jodi Chapman has been there. She has been in the depths of despair and has found a way out. Not only has she found the way out, but she is thriving, she is living a beautiful, soul-filled life with that man of her dreams.
Jodi is the founder of the blog Soul Speak and the author of the soon-to-be-released book , Coming Back to Life: How An Unlikely Friend Helped Me Reclaim My True Spirit. She and her husband Dan also created the bestselling Soulful Journals series.
And she is the creator of an e-course, Coming Back to Life, that draws on her experience of being disconnected from life and discovering how to plug back in to living by opening your heart and reconnecting with your deepest self. Jodi was kind enough to answer some questions about her personal journey of despair and coming back to life and to share a bit about her upcoming course.
Why do you think people become disconnected from themselves?
I believe that we are born completely connected to ourselves and all of life around us. And then life happens – the messy, not always fun, sometimes wonderful and sometimes horrible life that we all are sifting through constantly. Death happens. Divorce happens. Heartbreak happens. Worrying about finances happens. And on and on. It can be hard to stay present and connected when our lives are often filled with what can feel like one pain after another – sometimes it's just easier to unplug from it all.
How did that happen to you and what changed for you?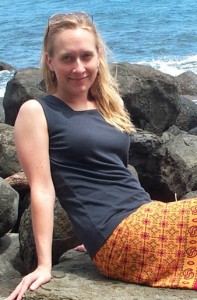 I definitely checked out from life for many years – most of my life, actually. I, like all of us, was certainly not immune to heartache: death, divorce, illness, pain, suffering, etc. Each time a painful experience occurred, I could feel myself unplug – it felt like a little part of my soul died. I didn't feel strong enough to stay present while my heart was breaking or while I was worried about money or while I was ill for years on end or while I was just trying to hang on and survive. It was just easier to crawl into bed, pull the covers up, and wait for things to get better.
But they didn't get better – they actually got much, much worse. During one of my lowest moments two years ago – when my husband and I had to move from our dream home under surprising and heartbreaking circumstances, when we were facing the facts that our struggling gift business was never going to be the success that we had hope it would be, when I didn't know if I could even get up off the floor again because everything just seemed too overwhelming, when everything seemed so dark and dreary, and I knew that it just couldn't get worse…it did. It was in that moment that I learned that my first love had just killed himself.
I was shocked and heartbroken and so, so sad. We hadn't spoken since we were teenagers, but when I last saw him, he was the same jovial, smiling person that I had loved so very much. And I wondered how his life could have changed so much that leaving this  planet was the preferred alternative to sifting through the mess and picking himself off of the floor of his life.
And then I realized that he could say the same about me. I, too, used to be so vibrant, so filled with dreams – so alive. And here I was just going through the motions of my life and simply trying to get through the day. He was gone, but I was still alive. And in that moment of extreme sadness also came extreme clarity: I had a choice. And I was going to choose to live fully from then on. I was going to choose to plug back into my own life. And, thankfully, that's exactly what I did.

What does it mean to reconnect with your soul?
Part of my own coming back to life journey was about remembering that it was okay – not just okay but essential – to pay attention to that inner voice that I had been ignoring for most of my life. The one that said to push through my fears and say yes to life. The one that urged me to not get married when I was so, so young and knew in my heart that it wasn't the right decision. The one that yearned for me to take the scholarship and study in France. The one that begged me to slow down and not push myself so hard. The one that I never listened to. The one that I couldn't hear or was too busy to heart or too checked out to hear or just not ready to hear.
The one that always was guiding me in its soft voice away from harm and toward the light. That's what reconnecting with my soul means to me. Listening to that voice. Really listening. And then actually doing what it says.
What is your Coming Back to Life course about and how is it set up?
TheComing Back to Life Ecourse is for those of us who have ever felt disconnected from life – from our soul. It's for those of us who have felt our light dimming. It's for those of us who know that there is more to life than simply getting through the day.
This course is for those of us who are ready to plug back into this magical universe, reconnect with our soul, and open our hearts again. It's for those of us who are no longer willing to just "get by" and sleepwalk through our days. It's for those of us who are ready – truly ready – to start living fully.
It's a 6-week course that starts on October 1. It's a helping hand, a set of concrete tools, and a loving support system all wrapped up into one heartfelt course!
It contains a soulful workbook that contains over 150 pages – filled with exercises and writing prompts to really help you delve into yourself and sift through how you got to this space of feeling disconnected in the first place and help you discover how you can pull yourself back out. It also contains over 30 heartfelt videos – some from me and some from the beautiful contributors (including Barrie!) who share their own stories and offer guidance and inspiration.
It contains 9 guided meditations, which are so soothing and grounding. It also contains printable soul art, surprises throughout, and over $175 in bonus gifts (including Barrie's Bold Living Guides)!
Because this course is about having the support of a community, participants will also have access to a private Facebook group where they can get to know each other and share their experience. (We're already getting to know each other in it, which is already wonderful!) We'll also have optional online chats once a week where we can dive into the material together!

How will the Course work?
Each Monday for 6 weeks, you'll receive an email with that week's goodies (the workbook, videos, guided meditation, soul art, etc.). You can either set aside a chunk of time each day to spend on the course, or you can take one day to work through all of it. It's completely up to you! Every Thursday, you have the option of being part of the live online chat where we can connect about that week's content.
There are optional assignments every week where you can participate with the Facebook group, too! All of this is completely optional though and can be completely self paced. Some of us work better in a group, and some of us work better on our own. This course
can be as group oriented or as self paced as you are comfortable with.
If you find that it's too much for your busy schedule, slow down and stretch it out. The material is yours forever, and you can go through it when the time is right for you.

What will participants walk away with by the end of your course?
My intention in creating this course was to offer a helping hand for anyone who is ready to come back to life. To give them the tools and community to do exactly that! I hope that the course will set each participant off on a journey of self discovery and conscious living – where they'll see a bit of the light and want to continue moving toward it. The community doesn't go away after the course ends – I intend for us to continue sharing and connecting there long after!
By the end of the course, I hope that each participant will be able to see how they ended up where they are and through that clarity, they can see how they can get off of the floor and back into life.

Coming back to life is a choice. And it's a choice that each person has to make on their own. But my hope is that this course will be the catalyst that helps them wake up and remain awake. Because being alive is such a beautiful gift that we've each been given. Why wouldn't we want to embrace it and live each moment fully?